Table of Contents
<mb909>
Home made prototype, finishing now 14th of February 2012 (and it works!!!)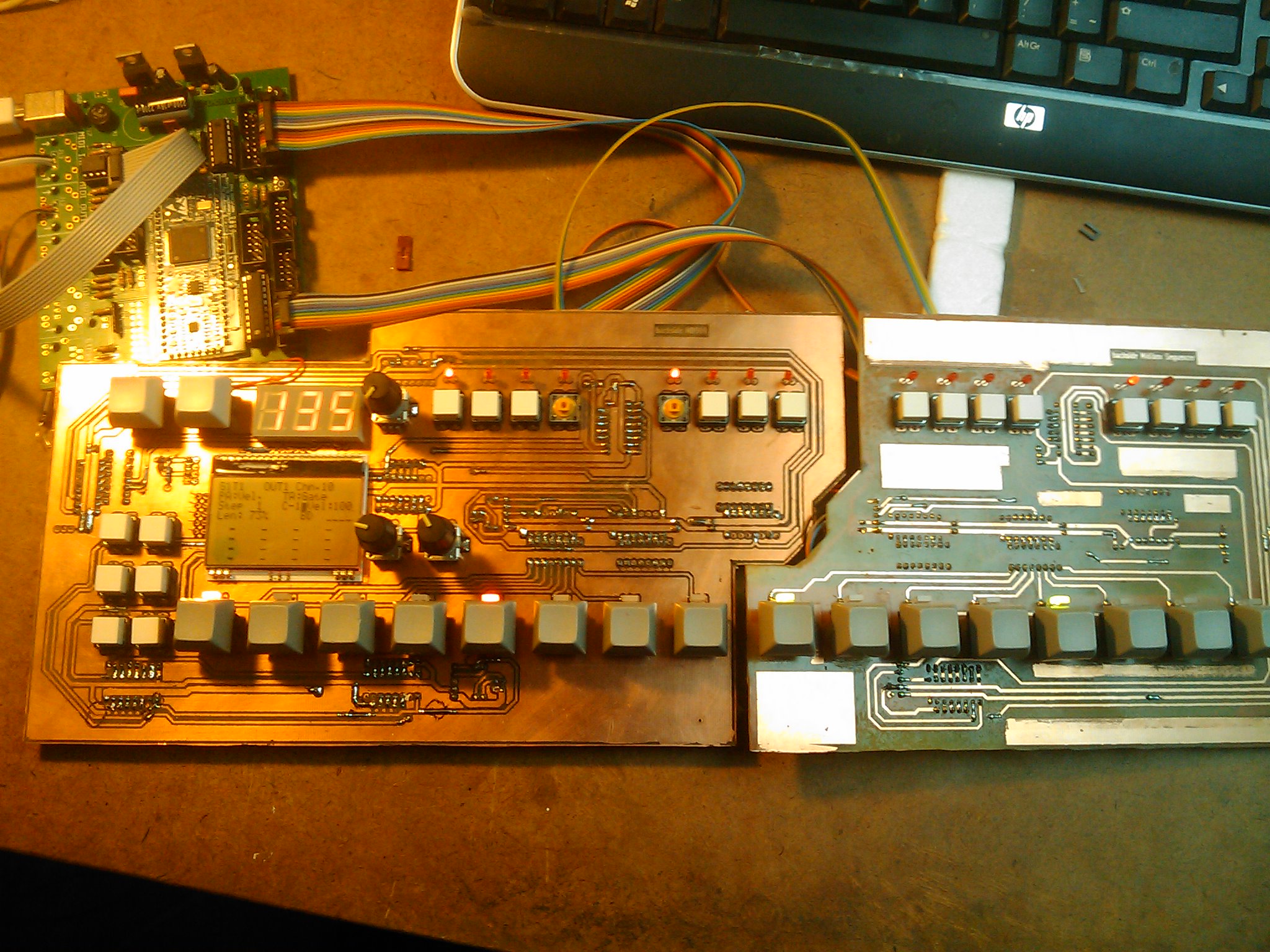 Intro
This page is al about my TR909 looking sequencer. As soon as I have finished the sequencer based on the V4Seq with LPC board I will update this wiki page.
I have the first PCB's at home for a beta test.
For now you can check how it is going with the projecton at: http://synthage.com/
you can contact me on: http://www.synthage.com/contact/default.html
Cheers Jef
Features
The MB909 control surface is using the LPC core and altered SeqV4 firmware. currently the sequencer has 2 MIDI IN and 2 MIDI OUT, but this is expandable to 4 IN and 4 OUT. The current LPC core board does not have the extra MIDI's on board.
A three digit led display shows the BPM like on the original TR-909. The BPM is controlled with an encoder. A nice dogm graphical display is used as LCD
The patterns can be for example 32 steps long with 3 trigger layers (gate, accent, roll, ….) and 2 parameter layers(velocity, roll, roll2, …)
In edit screen:
In song screen:
If multimachine is selected then the sequencer will play 4 tracks of one pattern at the same time (unless you have muted one or more tracks.

If multimachine is not selected the sequencer will only play one track of one pattern.

you can select the track with the track buttons or with the encoders.

you select the bank of the pattern of the song position with the patterngroup buttons or with the encoders.
Skills / Equipment Required
Hardware
What modules do I need?
Adjust List as required:
Any custom modules (create link in ':mbhp:module:<your_module>")
Parts List
List of pots, buttons, faders and blah - suggestions on good parts and where to buy them + how to hook them up - links
components
1uF (cer 10%)	9	810-FK14X5R1C105K
100nF (cer 20%)	14	Z5U-2,5 100N
100pF (cer 5mm)	4	KERKO-500 100P
100R 	4	METALL 100
100uF	1	RAD 100/16; 140-REA101M1CBK0611P
10K 1%	1	METALL 10,0K
SIL5 res 10K	6	SIL 5-4 10K
SIL6 res 10K	6	SIL 6-5 10K
R pack 220R	7	652-4116R-1LF-220
47R 	1	METALL 47,0
74HC165	6	74HC 165
74HC595	8	74HC 595
7 segment X3	1	604-BC56-12SRWA
conn 1 row	1	SL 1X36G 2,54
conn 2 rows	1	SL 2X17G 2,54
DUO LED 2X5	16	LED 2 RG-3
encoder cap BL	3	450-BA600
encoder	3	688-EC12E24204A9
IC socket 16pin	14	GS 16
seq led 3mm red	16	LED 3MM 2MA RT
Cherry cap beige	12	DSA 1X BEIGE GCF RECESSED MOUNT
Cherry cap white	6	DSA 1X WHITE WFK RECESSED MOUNT
LCD display	1	790-EADOGM128W6
LCD back red	1	790-EALED55X46R
Cherry switch	18	540-MX1A-11NW
tact cap white	22	653-B32-1260
tact switch	22	653-B3F-4055
		
PCB boards
MB909 beta PCB	1	MB909 beta PCB
Connections
Connection diagrams - links if needed (create in you projects namespace
Enclosure / Case
Enclosure References
Software
Setting Up
We recommend you read software before you continue.
Download
Setup Instructions