Getting down to business
Okey, now you're ready for the test. The PCB is mounted and you've got all the tools you'll need for the job (ask around at schools and such). Remember, you solder on the side where the metal is, the components go on the green side.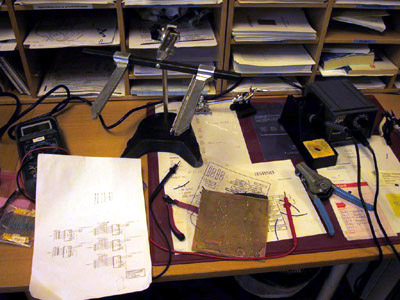 My setup. A tool for mounting the PCB is nice.
The basic rule is that tallest components go last. This means that we'll start with the bridges. Bend them and solder away. For now there is no worrying about overheating or something, so take the opportunity to test your skills here. When the bridges are done go for the resistors (the coloured small candy-like components). These are not very heat fragile either, but don't overkill either. You might end up with a small problem when you're up for the "resistor array" around the button connection points. Just bend the resistors like on the picture and everything will be fine.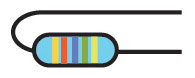 This' the way, aha aha...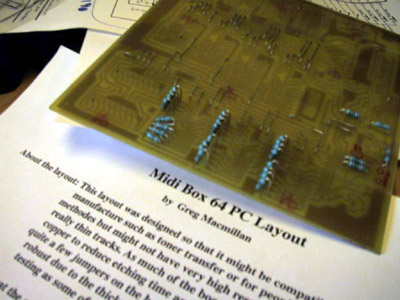 Your PCB should look something like this now.
Okey, now we're ready for the sockets (you did order sockets didn't you?). Be careful when you bend the pins and then solder them into their right positions.
Next thing up is the capasitators. Now, these come in two flavours. The ones where directions does count (electrolytic) and the ones where it doesnt. The polarity is usually printed on the capasitator, one pin is - and one pin +. Measure with the multimeter on "beeper" and make sure the + side of the capasitator is soldered to the side where + comes in.
Now we'll do the two diodes. These are side-spesific too and be a bit carefull with the heat. The line on the diode should be at the end where the - is (see the PCB layout).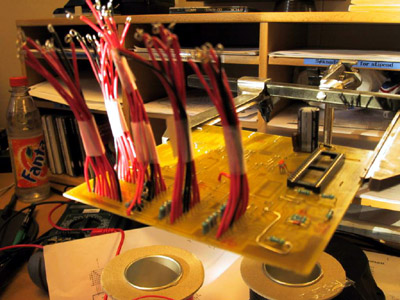 Now you should have something like this, except for my home-made flexicables.
Also there should be more sockets on your board.
What's left now is the transistor, the voltage-regulator and the crystal. The voltage-regulator goes straight on. The transistor too, but watch out with the heat. Now, the crystall should be soldered on the opposite side of the board (the same side as you've been soldering (where the metal is). This is to shield it. Put the legs into the holes but leave some room so you can bend the crystal to the surface later on. Also a bit of room makes it easier to solder it onto the PCB.
Tha'ts it, you're done! Only thing left is to solder the wires from the pots/buttons to the board and to insert the ICs into the sockets, but we'll do that later. If you've got some kind of flexicable socket you should solder them to the board now.