The pots
Each pot has 3 contact points. One should be connected to +5V, one to ground and the last one to the respective IC. Most pots work in a way that when you turn the pot all the way to the left (anticlockwise) you turn it against the pin that should be connected to ground. When you turn it all the way to the right (clockwise) you turn it against the pin that should be connected to +5V. Between these two pins is the pin that goes to the IC. The pots can share the grounding and the +5V (connected in parallel) , but not more than 8 pots at a time or else the last pot won't get the same voltage as the first. Now bundle 8 and 8 pots like one the picture below.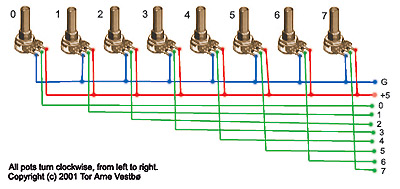 Remember, no more than 8 pots in a bundle.
This way, when you turn a pot, it will send out a controller-value from 0 to 127, not from 127 to 0. Although if the opposite happens than just switch the ground and the +5V wire and you'll be fine.
If for some reason you start measuring the pots with your multimeter and discover that when your pots are connected they no longer go from 0W to 10KW, but from 0W to ca 3KW and then to about 1,25KW this has a simple explanation. There are 8 pots, all at 10KW. Divide these two numbers and you can see a pattern. Just relax, the PIC will compensate for this change in W. Everything is the way it's supposed to be!
Remember that there is one single pot for the LCD which has it's own connection point on the PCB so don't include this with the other pots.
Thorsten advices that in order to reduce signal noise, you should wire the ground and +5V cables in a "starlike" fashion. The chassis should also be connected to ground.