Table of Contents
EuroRack - Midi IO - Board
Hardware Requirements
Soldering Iron - with a Dip that can Handle Thruhole-Parts and 1206 SMDs, solder Paste…


The other Parts from the BOM


a Midibox Core32
Building and BOM
All necessery Information is printet on the PCB, but also check the Shematic
Mouser:

Ref
Q
mouser
Type
Footprint
Description
AB1 - AB6
1
649-1012938192001BLF
2×20 Pin Header
2×3 Pin Header 2.54 * 2.54 Pitch
to set Midi A-B Standard
Jumper
12
571-8815451
JUMPER
Jumper
to set Midi A-B Standard
C1 – C4
4
187-CL31B104KBCNNND
100nF unolarized
1206 inch - 3216 metric
Unpolarized! > 10V
C5 – C6
2
963-TMK316AB7106KLHT
10uF unpolarized
1206 inch - 3216 metric
Unpolarized! > 10V
D1 – D4
4
241-1N4148W_R1_00001
1N4148W
SOD123-DIODE
doesnt draw much current
J1 – J2
2
571-12150790
TE Connnectivity
2x5P Micromatch Female
To solder in the PCB
J1 – J2
4
571-1-2178712-0
TE Connnectivity
2x5P Micromatch Male
Crimp Connector for Flat-Cables
J3 – J8
6
490-SJ1-3535NG
CUI 3.5mm Audio Jack
3.5mm Jack
those you know from PC-Mobos
LED1 – LED2
2
696-SSL-LX30FT4ID
LED ROT
LED_3mm
there are 8 LEDs you use only 4…
LED3 – LED4
2
696-SSL-LX30FT4GD
LED GRÜN
LED_3mm
… front or back soldered
R1 - R14
14
RC1206FR-07220RL
220
1206 inch - 3216 metric
5 10% doesnt matter
R15 – R18
4
CR1206-JW-472ELF
4K7
1206 inch - 3216 metric
5 10% doesnt matter
R19 - R20
2
AC1206FR-071KL
1K
1206 inch - 3216 metric
5 10% doesnt matter
U1 - U2
2
630-6N138-000E
6N138
DIP-8
Optocoupler
U1 - U2
2
437-1108730441001101
IC Socket 2x 4 Pin
DIP-8
Socket for Optocoupler
U3
1
771-74HC14D-T
74HC14
SOIC-14
SOLDER SKILLs
Cable
1
617-09180407001
Flat
a quantity forEver

copy following Lines in the box - and make a new project
649-1012938192001BLF|1
571-8815451|12
187-CL31B104KBCNNND|4
963-TMK316AB7106KLHT|2
241-1N4148W_R1_00001|4
571-12150790|2
571-1-2178712-0|4
490-SJ1-3535NG|6
696-SSL-LX30FT4ID|2
696-SSL-LX30FT4GD|2
RC1206FR-07220RL|14
CR1206-JW-472ELF|4
AC1206FR-071KL|2
630-6N138-000E|2
437-1108730441001101|2
771-74HC14D-T|1
617-09180407001|1

then decide how often you want to order all off, the BOM Quantity is for 1Module
On one PCB you have 2 ident MidiIO-Modules, on JLCPCB you order typicaly 5 PCB, so your quantity may be 10x
BUT dont buy multiple Flatbandcables… these are hundrets of meter!

1 times: 45€ 25€ parts and 20€ shipping…shipping excl fat
if you go over 50€ shipping is free.
lets take a look if we order it
5 times: 95€ incl free shipping excl fat
10times:176€ incl free shipping excl fat

4x (or 20x) Leiterplatten Montageblock aka Standoffs 100x summed 30€
You will also need M3 Screws - 2 off them…
Also here it is clever to order 100 pieces for a cheaper price - you will need this on all my projects…

PCB
GERBER-Files Rev B for Production
I already received and testet Rev A, i hade some small Bugs which i got fixed with some wires…
So i got it fully working… the Bugfixes are includet in Rev.B
—never the less i did not testet Rev.B… since i have enough Rev.A for my whole Modular-Rack @ home
so feel free to test - and report!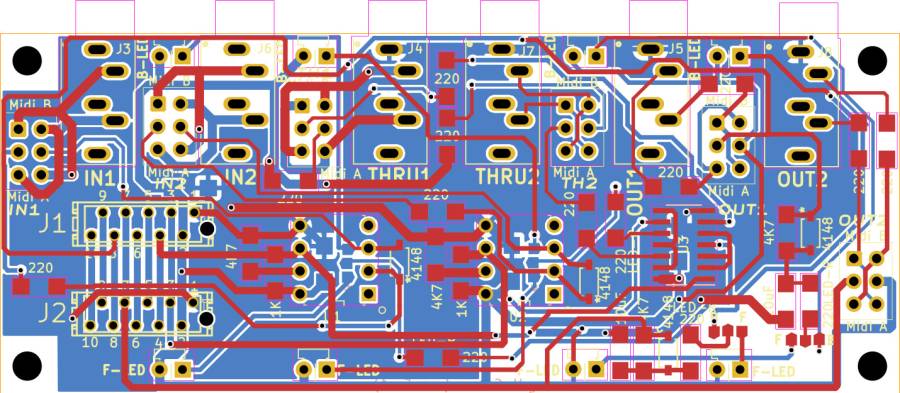 - dont use this - because of J1-J2 connection is wrong (this matter if you chain 2 Midi-IO-Modules

Frontpanel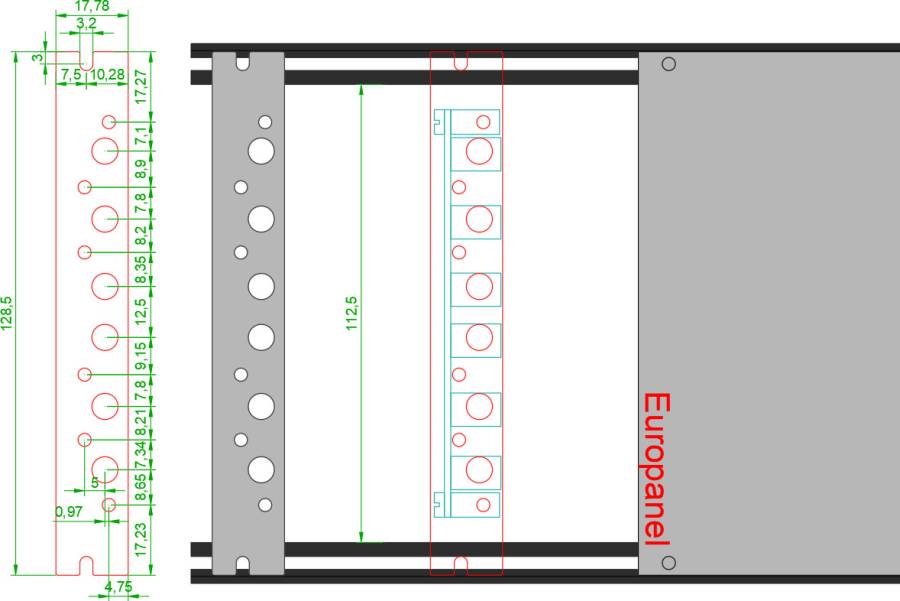 I made a DXFFile which you can print, and drill it DIY or
you can send to:
frontpanels.de in germany 17,08€ a panel (5x-10%, 10x-20%, 20x-30%, 30x-40%, 100x-50%)
I tested one with them - and yes they looking good - and they fit!:

another good guy: The Beast - UK


Recommend Material
2mm x 128.5 x 17.78 Aluminium, anodised

A cheaper way is: order a 1,6mm thick Aluminium PCB as Frontpanel:
this are the gerbers:
gerber-euro_midiio_fp.zip
I have testet it, and this 1.6mm Aluminium from JLCPCB is too thin, i endet up by sandwith 2 off them togehter - so its strong enough, since the Labels are reversed when use the PCB reversed - i now removed them in this gerber file!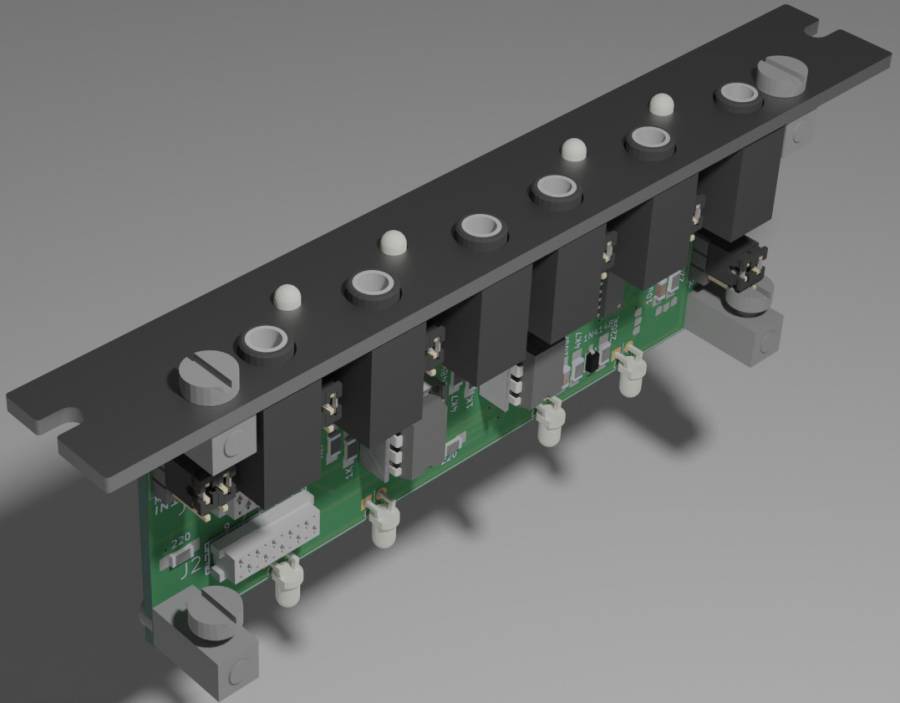 To Do
Use a other Midi-OUT-Activity Shematic! - its not working for high speed midi! - while Note-ON off is ok, Midiclock can make trouble (the Charge-Discharge Circuit in this Design is not sufficent for this!)

Phatline

= PCB & Shematic, Documentation…
Just let a Private message on the forum to user already involved.